If you're wondering where to eat in Camiguin during your trip, please feel free to check out our restaurants' reviews below. The island of Camiguin may be small in size but it's big in delectable food varieties. Getting surrounded by the sea definitely gives it a seafood advantage. But don't dismiss the idea that red meat would be good here as well considering how many of those can be seen on their menus. I hope that reading about our experience in some of their restaurants can help you decide where to eat in Camiguin based on your taste and food preference. You won't be disappointed by their uniquely delicious food and delicacies.
VjANDEP Shop
I'm putting this on top of our list because you can't afford to miss this when you visit Camiguin. One big reason is the fact that their pastel is a delicacy of Camiguin. Certain stores in Metro Manila may be selling some of these but I guess you can only buy this cheaper and eat these freshly cooked in Camiguin. A pastel may look like your ordinary bread on the outside but once your mouth extracts its succulent, sweet and flavorful filling—that's when you'll know that you're consuming something uniquely unearthly. Prying out its yummy filling would be a great pleasure because of the Pastel's tender and finely baked bun. I tried a small bite of the bun without the filling and it was very tasty on its own. VjANDEP's Pastel would be a great partner to your morning coffee.
They started by offering Yema filled pastels but they now have up to 17 flavors. Some of them are Chocolate, Cheese, Langka, Mango, Blueberry, Ube, Mocha, Guava, Strawberry, Pineapple, Macapuno, Raspberry, Durian, Bavarian, etc. For me, the Yema's taste blends best with the bun but the other ones that I really liked are the Chocolate and Mango flavor.  You can either buy a box with 12 or 6 Pastels with either Yema-only flavor or assorted flavors the way you buy Krispy Kreme's honey glazed doughnuts and their assorted ones.
Other Products
You can find boxes of these in their GASA Shop. This shop also sells a great list of other snacks from different nearby provinces. We bought some boxes of Yema and Assorted Pastels for our own consumption and pasalubong (take-home gift) along with a Durian candy. We went here during our first day in Camiguin so that we can enjoy eating them during our tours. If you missed bringing some of your beach attires, you can take advantage of buying some of their summer wears. You can also try buying some of their colorful exotic style bags, clothes and accessories. Outside the VjANDEP's GASA Shop is their BA'AY bakery where you can buy freshly cooked bread.
Price:
One dozen Pastels = 200.00
Half dozen Pastels = 105.00
Kiping
Kiping is another delicacy that is uniquely made from Camiguin. Translated in English as cassava flakes, its taste is definitely pretty close to your breakfast cornflakes. Just enlarge one of the cornflakes then add some syrup (latik), and there you have it—a sweet kiping for snack. Plenty of these is available near the entrance to the Katibawasan Falls. One Kiping is big enough for me and wife. She practically just tried a few bites which fell in my favor because I really liked it. I had a great time munching this large crunchy flake because I'm really fond of sweets. Unlike desserts like pinasugbo, this one is really friendly to your teeth because it's a bit tender and hollow. It's so easy to mouth that I finished eating it in no time during our short walk to get back to our tricycle.
Checkpoint FOOD Restaurant
This is our favorite restaurant because of its budget-friendly compared to the other restaurants that we tried in Camiguin but has a competitive quality. Their Buffet Breakfast costs P150.00 only but the taste of the food is really great. What's even better is that they offer a good variety of meal for you to choose from. If you don't like meat they have veggie salads and soups. For the meat, their breaded bacon was my favorite. It's actually the only restaurant that I visited so far that makes one.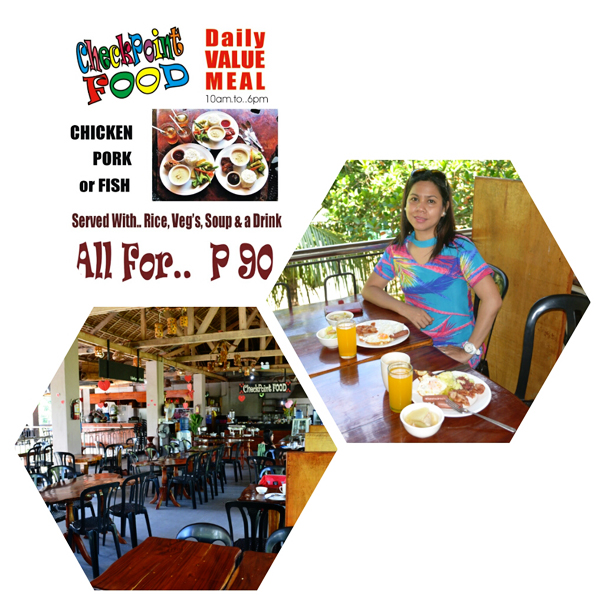 We really had a great time here that we had to give it a second visit. Their seafood curry combo was a delight in every bite. Getting all of your favorite seafood in one bowl—soaked under a thick flavorful curry soup was heavenly to my tongue and gums.
LUNA Ristoranti
This Italian restaurant has an elegant and classy ambiance with its outdoor setup. It was really a pleasure to eat out in the open while enjoying a good view of its garden's lush green plants.  When we received our order, you can tell that their pizzas are filled with freshly added quality ingredients just by looking at the pizza itself unlike certain commercialized pizzas. They've been generous with the cheese and toppings that made the pizza meatier and flavorful. The taste of its thin crust is simply superb. It's hard to tell if their recipe has an authentic Italian source because their pizza can definitely compete with a lot of commercial pizzas that I've tried.
Northern Lights
This restaurant has plenty of diners during our visit perhaps because they're offering greater food variety than the rest. On top of seafood, meat and soups, they're also offering pizzas. I really can't recall the exact cost of our order here but I can't forget how we realized that we could have had more food on our table if we dined in Checkpoint FOOD restaurant when we saw our bill here. It's the reason why we had a second visit to Checkpoint FOOD restaurant because the food quality isn't far from theirs but the price disparity is a bit high.
Their service also needs some improvement because their idle staffs are not proactive in taking our orders. They need to make up their mind if they're a restaurant or a fast-food because I had to approach their counter just to get someone to take our orders. I hope that it's an isolated case and that their team will outgrow their current service quality over time.
We hope that our post helped you decide where to eat in Camiguin