Sto. Niño Cold Spring is a cool getaway to escape the summer's heat. It's an oasis to Camiguin's visitors who have endured a long and hot day-tour. It's definitely not being subtle about how cool it is based on the resort's name itself. Abundant in constantly flowing water that's clean and fresh—this all-natural resort provides a swimming pleasure on a different level. Free from chlorine and its constant changing of its pool water clearly makes it ahead of your typical resort.
Immersing your body in the swimming pool's running water will let you experience nature's massage. The gentle pressure coming from each drop would surely delight your worn-out muscles. Indulge yourself with the ease and comfort that it provides while freeing your mind from anxiety and your body from stress. Let the fun and enjoyment rejuvenate you before facing another wave of your career's challenges.
Sto. Niño Cold Spring vs Bura Soda Water Park
Upon entering here, we noticed how similar its setup is to Bura Soda Water Park. It has the same rate, flower designs and logo font-style so we're guessing that it's under the same owner/company. Despite having the same rate, Sto. Niño Cold Spring has a larger area and a deeper swimming pool but what it doesn't have is the free unlimited soda water. Its swimming pool is up to 8 feet deep and seems to be twice larger compare to the one in Bura Soda Water Park. Perhaps it's the reason why there are more visitors here.
Speaking more about its size, it's clearly designed to accommodate more guests because of the greater number of cottages inside the resort. There's a stall that's selling Kiping snacks for 5 pesos but I guess it would help if they have bigger food stores. Guests who failed to bring their own food when they visited the resort would benefit from those.
After putting my feet in the water, I can attest that the resort's name is definitely true to its words. Its chilling temperature immediately went up to my spine and rattled my body. It practically has the same temperature as Bura Soda Water Park's swimming pool and it's not the coldest spring resort that I've been to. Wearing a rash guard can help if you're sensitive to cold water.
Our Choice
We personally prefer Sto. Niño Cold Spring over Bura Soda Water Park despite its unlimited soda water. The swimming pool size and depth is a big factor for me because I love to jump in the water. But I wouldn't recommend skipping Bura Soda Water Park because of the unique experience that it offers. Sto. Niño Cold Spring's other disadvantage is it's loud and crowded and if you're the type who prefers a resort that is less loud and crowded—Bura Soda Water Park would be a good option for you.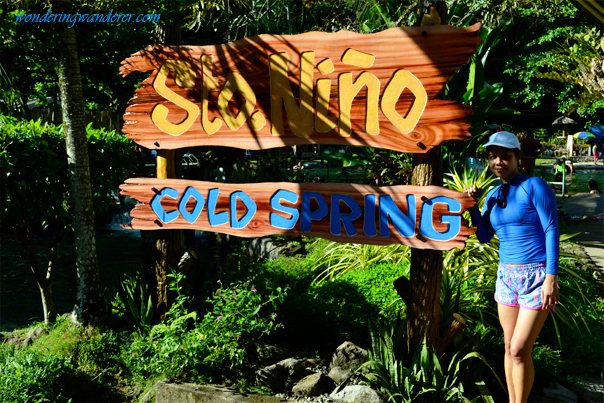 Entrance Fee:
Regular Rate: P30.00 per person
Below 10 yrs old: P15.00
Senior Citizen: P24.00
Picnic Shed: P75.00