Bura Soda Water Park is one of the most popular spring resorts in Camiguin. Its clean and clear water is not just good for swimming but for drinking as well. From the resort's name itself, they claim that the overflowing water here tastes like soda. That would also mean that a visit here automatically gives you an unli-soda drink! I guess it makes sense for them to have a constantly flowing water like this considering how big the waterfalls are on the island.
Some places are short of clean drinking water but it's so abundant in this island that they're swimming in it. Unlike your typical swimming pools with steady water and chlorine that hurts your eyes—the water in this pool is all natural and constantly flowing. It reminds me of some swimming pool resorts that change their water on a weekly basis only. They try to make up with the accumulated germs the whole week by putting a strong amount of chlorine. That recollection of mine made me appreciate this resort even more because it's the exact opposite.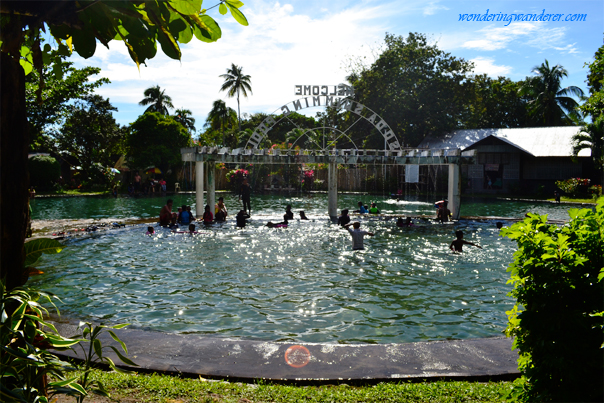 Our Experience at Bura Soda Water Park
We saw some visitors drinking the water in the open faucet so we gave it a try ourselves. It definitely tasted a bit different but it's more like of tonic water instead of soda for me. The slight kick in its taste was a bit salty and bitter but you can really tell that it's clean and safe to drink. I can guarantee you that we never had any stomach problems until we got home. You can feel free to refill your water bottle here before you leave.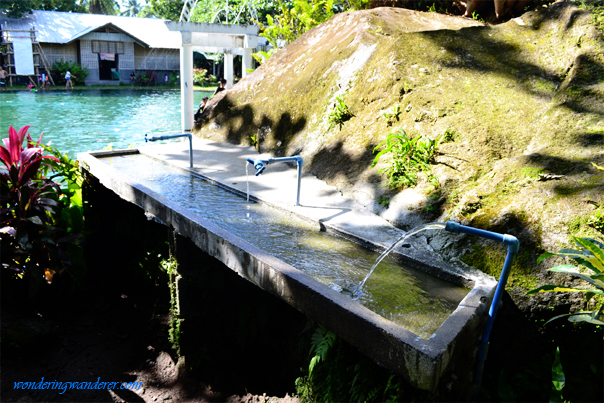 Bura Soda Water Park is actually the smallest resort that we visited in Camiguin. It may be small in Camiguin's standpoint but it's definitely bigger than most resorts in the Philippines. The deepest part of the pool is 5 feet and their kiddie pool is 3 feet. That water temperature is not bad because it's just slightly cold unlike in Sto. Niño Cold Spring and in the island's waterfalls. The picnic sheds are reasonably priced and there's more than what you can see in the picture. There's also a souvenir shop just right outside the resort where you can buy ref magnets, key chains and more. These are great for keepsakes or gifts.
Billboards and Rates
We saw some billboards with the written notes below about keeping the Bura Soda Water Park resort clean by leaving no trash and the benefits of drinking the soda water.
A Friendly Reminder: The Provincial Government of Camiguin is STRICTLY implementing a "LEAVE NO TRACE POLICY" in this facility. Please take and properly dispose of all litter and waste that you may produce during your stay here.
Remember: If you bring it in, take it out.
DRINKING SODA WATER HEALTH BENEFITS – is good for hydration making you feel full therefore decreasing overall food consumption, studies show that water reduces osteoporosis, decrease cardiovascular risk and lowers blood pressure.
Bura Soda Water Park Entrance Fee
Regular Rate: P30.00
Below 10 yrs old: P15.00
Senior Citizen: P24.00
Picnic Shed: P75.00