The Children's Island in Hundred Islands National Park lives up to its name as its shallow waters are very suitable for small children. This island can be considered as the kiddie version of Hundred Islands' Quezon Island because there are plenty of fun activities here as well but are more suitable for kids. We even saw some kayaks here with special compartments for kids. The island's beachfront itself is in kiddie size as well as it is very narrow and can accommodate very few people only. There are some huts (bahay kubo) here which can be rented for PhP559.00 per two persons.
Exploring Children's Island
This island has a solid and sturdy looking rock form which has stood the test of time and survived the waves. There are several elevated sections on this island with pathways and wooden fences. These act as terraces where visitors can relax while enjoying a nice view of the ocean and the cool breeze. One odd thing we saw is the small cave which we really can't tell if artificially made or just a natural wonder because it has a large window-like opening. We saw some kids hanging out that large opening without any restriction. This is a bit risky because there's no metal or wooden fence that can prevent them from slipping out from it.
Cuenco Cave and Bats 
The Cuenco Cave is a shallow cave on a separate island just near the Children's Island. What we'll see inside this cave are some smooth and light-yellowish rocks which matched the exact features of its walls. We'll see how intact some limestone formations in certain sections of this cave are, for surviving hundreds of years of changes in climate. This cave has a smaller opening on the opposite side.  It's already at the edge of the rear of the island.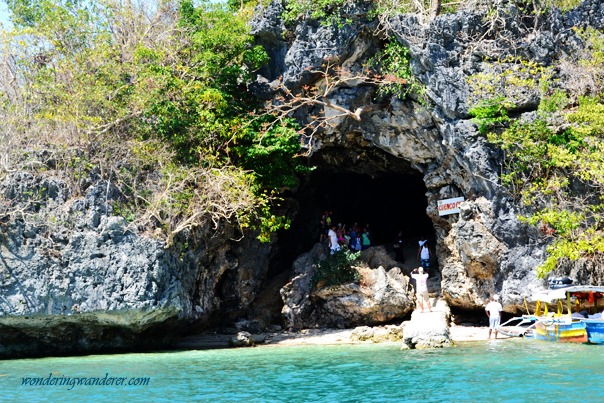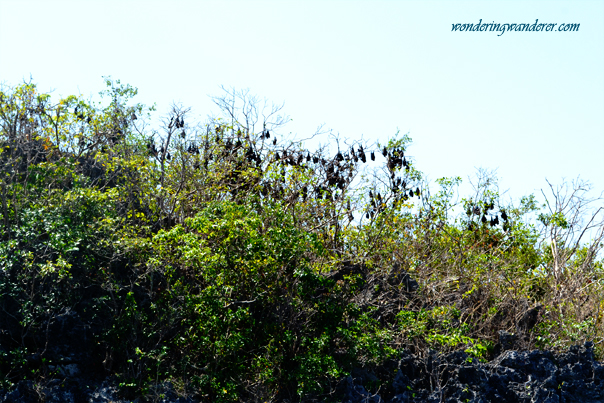 Looking at the trees in the surrounding islands, we'll see large and dark fruit-like things hanging in them. This is how you'll perceive them at first when looking at them from afar. Upon a closer look, you'll realize that they are actually bats. I'm not sure if the reason why they're all hanging-out outside. Perhaps the people are bugging them in their caves during the day. Seeing wildlife like these bats thrive in these islands is really great to see.