Giant Clams (Taklobo) are known to be the largest living bivalve mollusks and the most endangered clam species. Several of these fascinating marine creatures can be found in Hundred Islands, Pangasinan. Even the Italian scholar Antonio Pigafetta mentioned them in his journal in 1521 during his trip with Portuguese explorer Ferdinand Magellan. Taklobo is a Filipino word for a giant clam while kabibe is the Filipino word for a small clam.
Spotting the Giant Clams
The snorkeling spot of Hundred Islands National Park is our last destination in our island hopping list. After seeing how wonderful these creatures are, we can surely say that we've saved the best for last. So far, this is the only place in the country where we've seen a bundle of giant clams. We've snorkeled in areas like Puerto Galera, Sipalay, Siquijor, Puerto Princesa, Boracay and Bohol but haven't seen anything like these in shallow waters. I've seen some news articles stating that some of these can be found in Batangas and Bohol, but in the deep diving spots only.
I'm used to seeing small clams with plain colors but these giant clams come in a variety of rich and vivid colors. What's more amazing is getting a chance to see them with a school of fish. Seeing the synchronized movement of those fishes mixed with their illuminating colors was really an amazing experience. They never stayed very long so I'm very happy to have captured some pictures of them in their short stay. Aside from the colorful giant clams and fishes we've seen colorful corals as well.
Snorkeling Safety
Just an FYI, if you plan to try snorkeling here later, be careful when going down the wooden stairs of the floating platform. There's a section here where there are some small but sharp metals protruding. Those can get you big wounds or scratches. I somehow managed to avoid it but my wife, unfortunately, got a bit outbalanced while going down. She accidentally hit that unsafe part with her arm and it gave here a big scratch. We can clearly see in the picture how bad the wound is–and yet she's still smiling.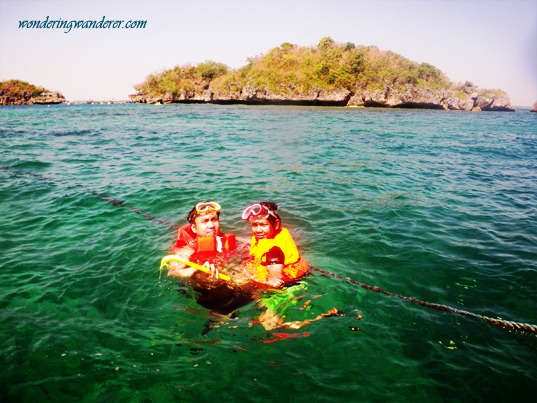 Related Post: Children's Island