Tropical Storm Maring (International name of Trami) caused heavy floods in several parts of Luzon and major cities of Metro Manila yesterday which got a lot worse this morning. I just want to share our side of the story about the flood situation in the C5 Waterfun Signal Village area which is near the Heritage Park, Bayani Road.
I was still able to come to work without any problems despite the heavy rains yesterday evening but this morning—the situation was the worst flood that I've seen since the storm Ondoy.
Luckily, I was able to still catch a jeepney from Mckinley Hill going to C5 Waterfun after my shift despite the heavy storm. I thought to myself that since jeepneys are higher than most vehicles, we will be able to go through the flooded roads without problems. After reaching the Heritage Park area, all of the vehicles stopped with some turning around to Bayani Road again.
With Great Traffic Comes Great Flood
All of the passengers were patiently waiting inside the jeepney aside from me because I know we are already somewhere which is just a walking distance to our house—so I thought "why should I still bother waiting?" I left the jeepney alone so I can start walking from C5 Waterfun to our house. After reaching the end of the road which is near the bridge, I was greeted by the great flood. The very area where I always wait for jeepneys to ride for work is totally covered with water. The place is called Waterfun but the water is no fun.
So I texted my brother and some officemates to warn them about the flood, then took some pictures and videos of it. After that, I checked the different angles surrounding the bridge which made realize that the only way I can pass to the other side is by getting myself very wet by walking through the most shallow parts of the flood. So I went through the left side of the road where the ground is higher then walked through the upper part of the bridge. I did the same to go down to the other side until I was able to get pass through it.
Another Flooded Area
It was a success and I was very happy to have passed through it. I decided to continue walking home with confidence that my misery was already over. After reaching the Bahay Tinapay bakery area, I was welcomed by another flood. This area is the lower Cuasay and Sampaloc Street part. I tried my usual path but it leads to an area where the flood is as high as my chest. I went to the covered-court area because I know that the end of its road can lead to a higher ground going to our house but it's all flooded as well.
Finally Home
I finally decided to take the route in-between Cuasay and Sampaloc Street which allowed me to reach the upper ground. The area allowed me to turn to Dr. Dalupang's house then go down to our house. I was very thankful that I was able to finally get home and rest even if I was very wet.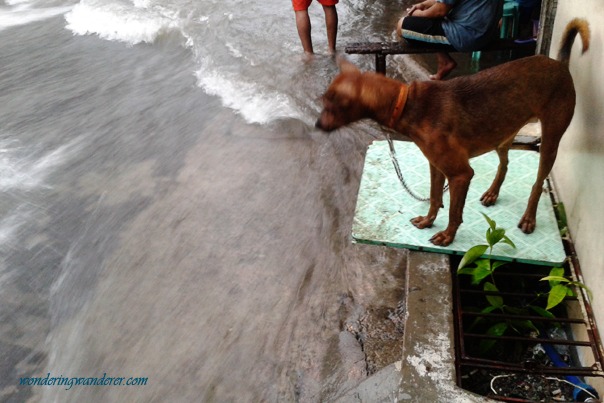 This first-hand experience made me realize how much more difficult it is for those people whose houses are completely submerged in water and their only choice is to sleep in their roofs or in evacuation centers. There are really a lot of things that all of us should be thankful about and I hope that most of us will express our thankfulness by helping out flood victims or by giving to charitable institutions that are helping out the flood victims.
My Tropical Storm Maring Flood Video Early This Morning
Flood Safety Tips for Tropical Storm Maring:
Here are some safety tips to prepare for rising water—and what to do once a flood has begun.
Before a Flood
Avoid building in a floodplain.
Construct barriers (levees, beams, floodwalls) to stop floodwater from entering your home.
Seal walls in basements with waterproofing compounds to avoid seepage.
If a flood is likely in your area, listen to the radio or television for information.
Know the difference between a flood watch and a flood warning. A watch means flooding is possible. A warning means flooding is occurring or will occur soon.
When a Flood is Imminent
be prepared! Pack a bag with important items in case you need to evacuate. Don't forget to include needed medications.
If advised to evacuate your home, do so immediately.
When there is any possibility of a flash flood, move immediately to higher ground.
If possible, bring in outdoor furniture and move essential items to an upper floor.
Turn off utilities at the main switches or valves if instructed to do so. Disconnect electrical appliances.
During a Flood
do not walk through moving water. As little as 6 inches (15 centimeters) of moving water can make you fall.
If you have to walk in water, wherever possible, walk where the water is not moving. Use a stick to check the firmness of the ground in front of you.
Do not drive into flooded areas. If floodwaters rise around your car, abandon the car and move to higher ground if you can do so safely.
Do not touch electrical equipment if you are wet or standing in water.
After a Flood
Listen for news reports to learn whether the community's water supply is safe to drink.
Avoid floodwaters; water may be contaminated by oil, gasoline, or raw sewage. Water may also be electrically charged from underground or downed power lines.
Avoid moving water.
Be aware of areas where floodwaters have receded. Roads may have weakened and could collapse under the weight of a car.
Stay away from downed power lines, and report them to the power company.
Return home only when authorities indicate it is safe.
Stay out of any building if it is surrounded by floodwaters.
Service damaged septic tanks, cesspools, pits, and leaching systems as soon as possible. Damaged sewage systems are serious health hazards.
Clean and disinfect everything that got wet. Mud left from floodwater can contain sewage and chemicals.
Source: U.S. Federal Emergency Management Agency