The Quezon Island can be considered as Hundred Islands' activity center because aside from its many islands, this jam-packed bliss is the only place where you'll see a lot different fun activities happening. We've seen people throwing Frisbees, playing volleyball, snorkeling, kayaking, kids playing in the sand, etc. The presence of large huts on this island is a clear indication that the Hundred Islands' management decided to dedicate this island for recreational activities.
Exploring Quezon Island
Before we got to this island, coming from the Marcos Island, we were toured to some interesting nearby islands. Looking at the various forms and shapes of these beautiful islands mixed with our natural creative thinking lets us enjoy our trip much more.
We've seen an island which looks like a stegosaurus but can also be a sea turtle with fins exposed. After that, we saw another island that looks like a partially submerged sperm whale. It also seems like a giant tortoise in another angle. There's one Grand Island with a very hollow body which makes it look like a cathedral.
Beach Bumming
After our short stroll around this island, we never had to rent a hut when we rested because there are several trees and tall rocks on this island which can give us shade. Unlike us, our son who's full of energy quickly played in the sand instead of resting and no one can stop him from doing so. This is my son's first time on a beach so we can't blame him. He used to play with small amount of sands at home.  But here, he can comfortably sit in it and exercise his creativity by drawing or molding anything he wants.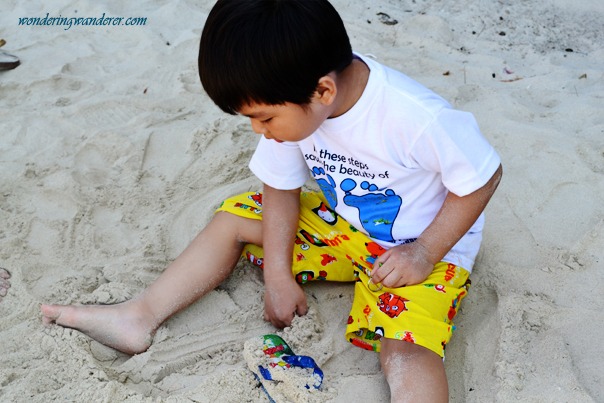 Since our son was having fun in this island, his mom took advantage of the chance of being able to leave him with my mom and my mother-in-law so we can check out the giant clams ( taklobo) in another area. He would usually cry if his mom is not around.  But he was having so much fun this that he didn't realize that she left. This island acted like a playroom in a mall.  We can leave our kids here so that mom and dad can go shopping.