Mandarin Sky Express is a great place to enjoy the rich and flavorful taste of authentic Chinese food at an affordable price. It offers a great variety of delectable Chinese dishes that will surely satisfy your oriental meal cravings. The company recently opened its BGC branch last February 13, 2019, on the ground floor of the Market! Market! mall. It's the fifth branch of Mandarin Sky Express and a sixth one is already under construction in Tondo, Manila.
Celebrating at Mandarin Sky Express
We were looking for a restaurant that was reasonably priced but with decent quality to celebrate my father's birthday when we discovered the Mandarin Sky Express. 15 people were expected to come so we really needed something budget-friendly. My brother immediately made a reservation in this restaurant after seeing their menu. On top of the fact that it fits the budget, it's fairly new as well.
I wasn't really expecting much about the taste but I found it to be a good option for the sake of trying out something new. When my father's birthday finally came, my enthusiasm increased when I saw that the restaurant has plenty of customers. It could be because of the word of mouth about their food quality or they might just be a mob of first-time curious customers.
The wait time for their food is slightly longer which is not a problem for me as long as the taste of the food makes up for it. When the food finally came, our eyes were brightened because of their large servings and their tempting look. I just hope that they taste good as they look. After trying some of their dishes, it made me very happy. But I'm not the only one. My relatives also talked about how they liked the food. My son even ordered an extra meal and rice because he really loved the taste.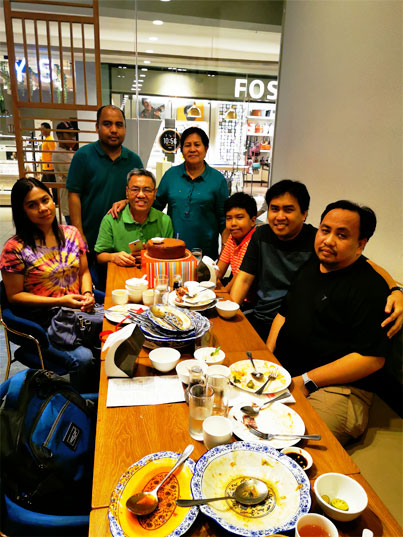 Oriental Ambiance
I like how the restaurant's name gives you an idea upfront about the kind of cuisine it offers and how its ambiance reflects it as well. Its modern look that's mixed with some oriental patterns will give you a good feel of East Asia. Their tableware of wooden steamers for the dim sums, plates with blue flowery patterns and chopsticks lets you immerse in the colorful culture of China.
Their staffs are very friendly and they don't have any problem if you bring an outside food. The only outside food we brought is a cake for my father's birthday. In spite of their busy environment because of the number of their customers, they were always prompt and polite in attending to our requests.
Mandarin Sky Express definitely lived up to its tagline: Revel to the new taste of heavenly Chinese cuisine. We highly recommended this restaurant and we hope that you won't get disappointed.
Mandarin Sky Express Menu
Mandarin Sky Express Taguig
Address: Ground Floor, C-5 Wing, Market! Market!, BGC, Taguig
Landline: (02)8898-3915
Mobile: (0917)679-8188
Other Branches
Banawe, Quezon City – 740-6134; (0917)845-2577
Panay Avenue, Quezon City – 921-7615; (0917)714-0602; (0908)356-8929
Don Antonio, Quezon City – 929-1994; (0917)150-8188
C-Cube Complex, Caloocan City – 964-8168; (0917)569-8168; (0932)880-9801
Related Post: Tong Yang Shabu Shabu and Barbecue Restaurant