Punta Isla Resort is the home of the famous floating restaurant in Lake Sebu, South Cotabato which serves almost all kinds of Tilapia dishes. Beyond the restaurant and the Tilapias, what makes Punta Isla Resort a fantastic resort is its ambiance and several amenities. This resort has lush green gardens, a swimming pool, a conference hall, a children's playground, large view decks, cozy rooms and of course—a great view of the lake.
Exploring Punta Isla Resort
After our visit to Lake Sebu's Seven Falls and Zipline, my wife's uncle told us that it's time to take our lunch and that he knows a good restaurant where we can try out unique Tilapia dishes. So we hopped in the car without any idea where he'll take us and just continued with our fun family conversation. We later got to a nice average-size restaurant made out of bamboo and coconut leaves.
Without expecting anything much upon entering, I checked it out and noticed that this restaurant seems to have a nice view on the opposite end of its dining area so I went there. Upon reaching the viewing deck, I got startled by the wonderful view of the lake which is surrounded by lush green trees and plants. I then realized that we're already in Punta Isla Resort where we'll find Lake Sebu's iconic floating restaurant with a Tilapia dummy on top of it.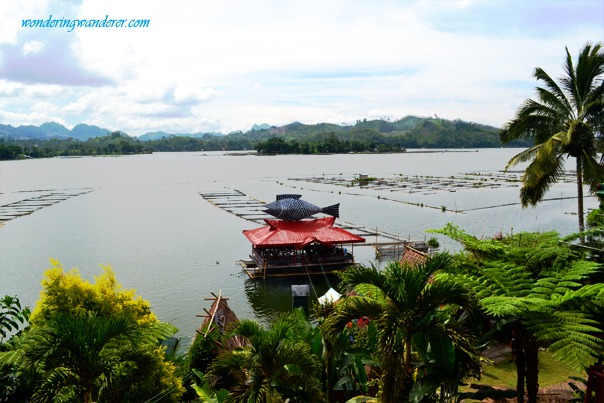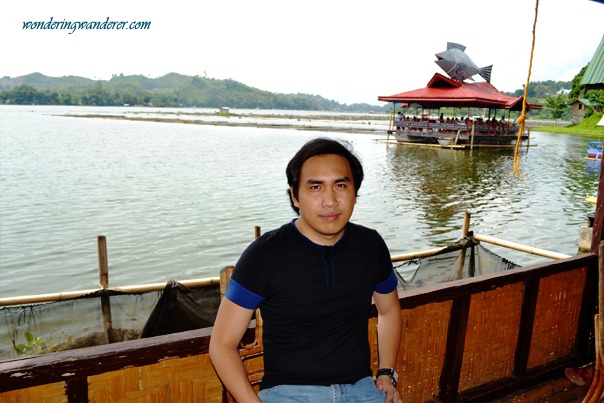 Tilapia Dishes
Everyone was excited to eat after seeing how nice the place is. I can't wait to taste the pork rind Tilapia "Chicharon Tilapia" that my wife's cousins are telling us about. This resort is definitely family-friendly because they have lots of tables which are good for ten people and these are overlooking the lake. The fresh air from the lake and its nice view definitely made our lunch experience more pleasant.
Aside from the pork rind Tilapia "Chicharon Tilapia", other kinds of Tilapia dishes they serve are vinegar-cooked raw Tilapia "Kinilaw na Tilapia", Sizzling Tilapia, Nilasing na Tilapia, Pinaputok na Tilapia, Sinugba na Tilapia, Tilapora, Sisig na Tilapia, Paksiw and many more. Their famous crunchy pork rind tilapia "Chicharon Tilapia" was really yummy especially when dipped in vinegar.
Various Amenities
After a delightful meal, we strolled around the resort to check out its amenities. Everywhere you turn, you'll see lush green plants that make a stroll on this resort very relaxing to the eyes and breathing a pleasure. Despite the number of gardens inside the resort, all of the plants are well cared for as we can see how they are flourishing and nicely trimmed. The whole place is very clean and clearly well-maintained because the paints look fresh despite the fact that the resort has been around for a while. We later saw some staff dressed in T'boli attires. We really haven't checked where they'll perform but they were very kind enough to sit with us and have a photo taken with us.
I went back to our table to enjoy the lake's view and its nice breeze. The boat that tours visitors around the lake was near our table so I took some pictures of it. Some kids who are riding wooden boats came near our area later.  They started collecting some shells afterward. When they were about to leave, they started asking me to throw them some coins, so I did, and they were catching those with exhibition jumps which encouraged us to throw more coins.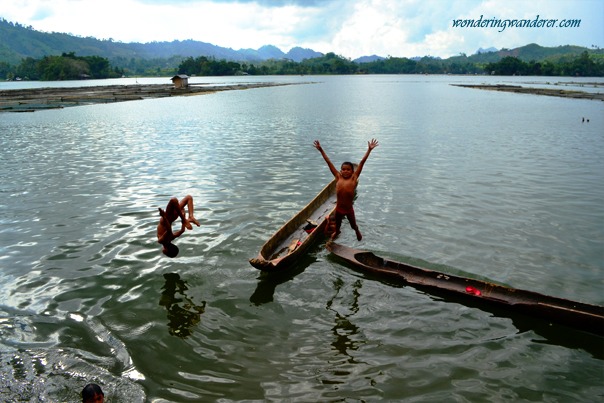 If we get the chance later, we might book one of its cozy rooms which are reasonably priced. It's a great deal considering how wonderful the resort is. Our visit to Punta Isla Resort left us colorful memories which we will treasure as a couple and reminisce all over again.
Punta Isla Resort's Rates: 
VIP Room – Php 950.00
Single Bed w/ Bath, Toilet and Cable TV (Good for 2 persons)
Family Room – Php 975.00
Twin Bed w/ Bath, Toilet and Cable TV (Good for 4 persons)
Family Room – Php 1000.00
Twin Bed w/ Bath, Toilet and Cable TV (Good for 8 persons)
Family Room Dorm Type – Php 500.00
Common Bath and Toilet (Good for 4 persons)
Family Room Dorm Type  – Php 750.00
Common Bath and Toilet (Good for 6 persons)
T'BOLI House – Php 1,350.00 
(Good for 15 persons)
Boating – Php 500.00 per trip
(maximum of 20 persons)
Punta Isla Lake Resort's Contact Information:
Email: reservations.puntaisla@gmail.com, reservations.puntaisla@yahoo.com
Globe: 09052895134
Smart: 09194515015
Sun: 09239115053
Landline Tel.: (083) 236-1053