The Seven Falls site a.k.a. "Dongon 7 Falls" is an enchanting attraction in Lake Sebu. It's a series of majestic falls that were uniquely cascaded together by Mother Nature. All seven of them form a charming and breathtaking sight. Their majestic beauty got even more magnified by the vivid colors of the lush green plants and trees surrounding them. These wonderful plants only make up a small portion of the flourishing forests in the area which are abundant in the whole region. It's great to escape in this paradise that is well-preserved by its people.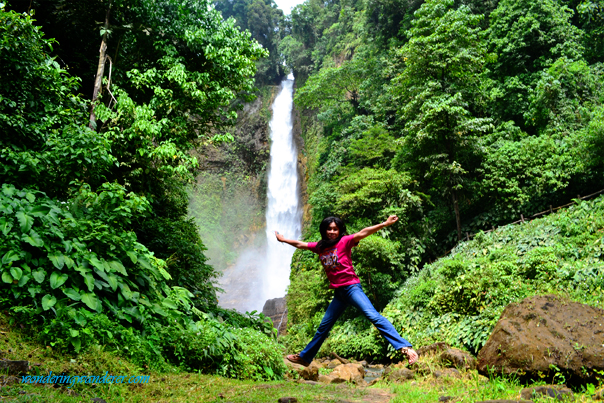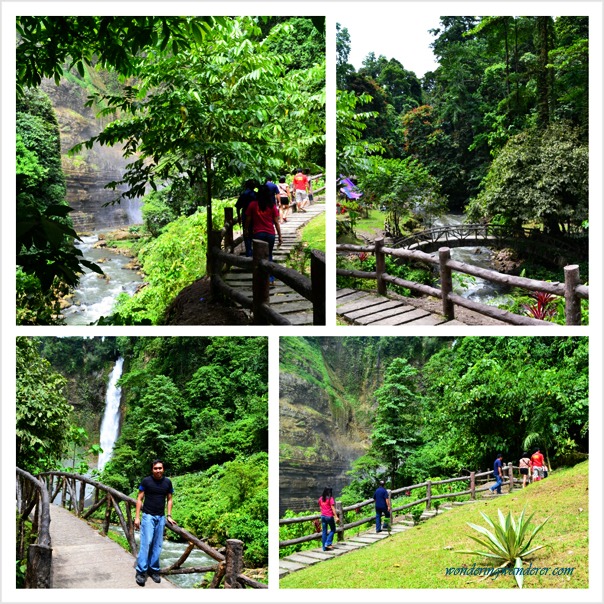 Visiting The Seven Falls
We experienced short suspense on our way to one of the falls because getting there requires you to go up and down long pathways, pass a river then enter a narrow path. By the time we were getting close, we can already hear loud splashing sounds coming from it. When we got even closer, we got drizzled by its micro splashes.  The splash is so strong that it forms a fog-like image which is almost half the height of the falls.
What we visited is the second among the waterfalls. This is Lake Sebu's highest among the rest of the falls. Its height is about 100 feet. The locals call it Hikong Bente which means immeasurable. I would agree with the locals because the kind of amazement it brings to its visitors is without a doubt immeasurable. This enormous nature wonder has that startling and intimidating kind of radiance that would give you that chilling excitement. Its charm will make you stare at it until you realize that you won't be able to conceive how it came to be.
Rock Formations
Aside from the falls itself, the amazing rock formations surrounding it are very noticeable. These rocks remind me of the Bryce Canyon pictures that my mom showed us from their trip. These may not be as grand as the one in Utah but they're amazing enough to make the visitors pause for a moment and have a good look on how their solid and sturdy form is shaped in a very artistic way that blends wonderfully with the falls and forest.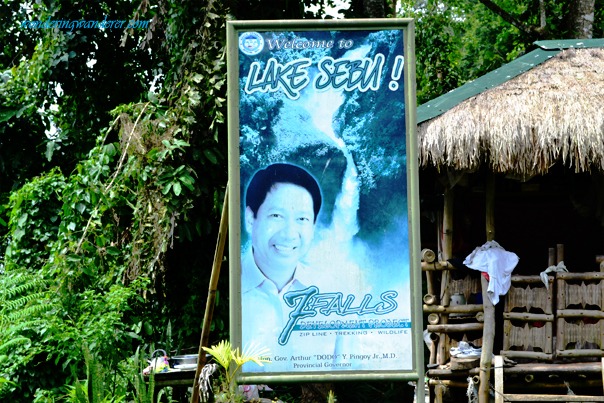 Since we traveled with my wife's uncle, cousins and their kids, we didn't get the chance to visit each of them because some of those require long and tiring climbs which are not suitable for kids. We were able to get a good overview of their entirety during our zipline adventure. Make sure to get the chance to visit this place when you go on a trip to Lake Sebu.
Seven Falls Names:
1st – Hikong Alu – Passage
2nd – Hikong Bente – Immeasurable
3rd – Hikong B'lebed – Zigzag or Coil
4th – Hikong Lowig – Booth
5th – Hikong Kefo-I – Wild Flower
6th – Hikong Ukol – Short
7th – Hikong Tonok – Soil
Rates:
Entrance Fee:
Adult = PhP20.00
Students with I.D. = PhP15.00
Senior Citizen = PhP18.00
Children = PhP8.00
Parking Fee:
2 Wheels = PhP10.00
4 Wheels = PhP20.00
6 Wheels = PhP30.00
10 Wheels = PhP50.00