Mindanao tourist spots are rich in culture, beauty and diversity. It was once hailed as the land of promise because of its abundance of fertile lands, dense forests, and pristine beaches. As more people flocked to the region, resorts and hotels started sprawling—making it easier for visitors to get accommodation. Access to tourist spots has become more seamless as well because of the rapid development of concrete roads and transportation systems.
As the second largest island group in the Philippines, it offers a great variety of breathtaking attractions and fun activities. Its natural wonders abound with majestic waterfalls, white-sand beaches and enchanting rivers. Travel back in time with its ancient heritage and Renaissance structures. Mindanao tourist spots are truly bucket list worthy.
Mindanao Tourist Spots per Province
Camiguin
1. Sunken Cemetery
The Sunken Cemetery is Camiguin's most iconic spot because of its enormous cross that looks glorious during sunset. Beneath the sea is a cemetery that sunk because of a series of powerful earthquakes caused by Mount Vulcan from 1871 to 1875. The large cross was erected in 1982 to continue honoring the departed undersea.
2. Mantigue Island
Mantigue is an island near the coast of Mahinog. You can enjoy swimming in its clear blue waters or simply bum in its glimmering white sands. There's rich vegetation at the center of the island that allows some locals to reside there. You'll see some fish being dried on some sections of the island.
3. Katibawasan Falls
Katibawasan Falls is a charming attraction hidden deep in the dense forest of Mambajao. Beat the heat by swimming in its shallow waters while enjoying its majestic view and fresh surroundings.
4. Guiob Church Ruins
Take yourself to the medieval era as you explore the Guiob Church Ruins. Learn about its tragic past and then use your imagination to revive its old glory as you wander around its large church complex. The ruin's imposing and sturdy mossy walls made out of colossal rocks would make you appreciate the tremendous amount of work our countrymen had gone through during construction.
5. White Island
White Island is famous for its vanishing feature. Make sure to catch it before it disappears during high tide. This sandbar island is literally reborn on a daily basis. It lives up to the name because it's like a giant spill of sugar in the middle of a sea.
Lake Sebu, South Cotabato
6. Seven Falls
The Seven Falls attraction also known as Dongon Seven Falls is just one of the many grand waterfalls tourist spots in Mindanao. Wonderfully cascaded by mother nature, each of the seven falls has its own name. Its splashes are so strong that they create mists around its base. It's truly an awesome sight.
7. Punta Isla Resort
Punta Isla Resort lets you plunge into the natural beauty of South Cotabato's enormous lake. The specialty of their floating restaurant is the tilapia fish. You would also see large tilapia dummies on top of their floating cottages. They have a wide variety of tasty tilapia dishes like kilawin, fried, ginataan and even chicharon.
8. Tboli Tribe
Learn about the fascinating culture of the T'boli tribe, one of the oldest indigenous tribes in the Philippines. Watch them manually weave their colorful clothing and see the various products of their creative hands.
Siargao, Surigao del Norte
9. Cloud 9 Boardwalk
Siargao is known globally for its high and strong waves that are ideal for surfboarding. Surfboarding competitions are regularly held in the Cloud 9 Boardwalk. As you enter the venue, there are several surfing guides waiting if you need help learning how to surf. They also have a great stock of surfboards that you can rent. With its pleasant view and fresh surroundings, you can enjoy visiting this place even if you don't want to surf.
10. Daku Island
Daku Island is one of the best spots in Siargao. It's the ideal place to take your lunch. This island has several huts where you can relax and vendors who will cook freshly caught seafood for you. Enjoy swimming in its crystal clear blue water or bumming in its fine white sand as you wait for your meal to be cooked.
11. Magpupunko Beach
Magpupungko Beach is one of the gems of Siargao. It's only a short travel away from the Cloud 9 Boardwalk. Aside from its pristine waters, it is also known for its imposing Rock Formations and Tayang-ban cave pool.
12. Naked Island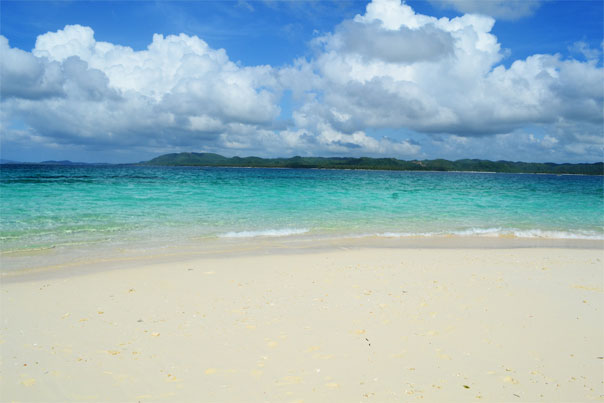 The Naked Island is a sand bar that seems to float like a cloud in the blue sky. It's locally called Pansukian Island. The absence of any form of plants or shrubs could be one of the reasons it is referred to as naked.
13 Guyam Island
Guyam Island is the perfect siesta spot after a tiring island-hopping adventure in Siargao. The word Guyam means "ant" in English. It's clearly the little brother of the nearby Daku Island because it's like a smaller version of it. This is where you can enjoy having a snack while drinking cool refreshments. You can also relax in their hammock or take a nap on their mats with pillows.
Davao
14. Samal Island
Samal Island is the grand beach getaway of Davao. This large island has a long list of beach resorts because it has a lot of sections with white-sand beaches. The grandest resort on this island is the Pearl Farm Beach Resort.
15. Eden Nature Park and Resort
Nature lovers would surely have a wonderful time exploring Davao's hidden paradise, the Eden Nature Park and Resort. Named after the famous biblical garden, the park's colorful flowers and lush green surroundings would surely give you a blissful feeling. Beyond its natural beauty, you'll also learn about the ancient tribes and their culture here. They are well illustrated with statues and model houses.
16. People's Park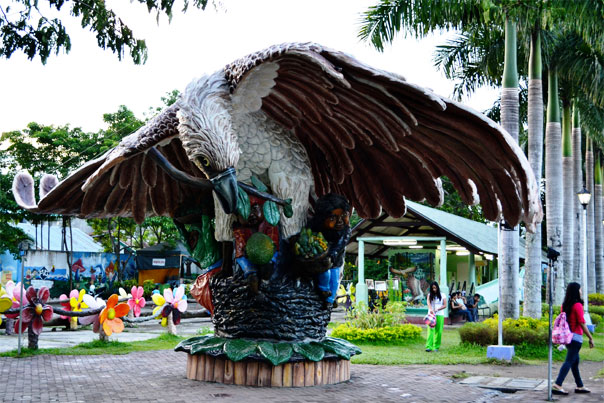 Enjoy a late afternoon stroll in the People's Park of Davao City. This 4-hectare park is wonderfully decorated with colorful statues and has a giant durian dome as its centerpiece. Its huge pond filled with a great number of koi fish is a great spot to relax. Have a smile while watching the koi fishes swarm while being fed by random visitors.
17. Crocodile Park
Davao's Crocodile Park may sound like a large farm of crocodiles only, but it's actually a zoo with tigers, pythons, eagles, ostrich and more. Its grandest star is the 18 feet long Pangil, the biggest crocodile in the Philippines. Lolong used to be the biggest crocodile with its size of 20 feet and 3 inches but it died on February 10, 2013.
Surigao Del Sur
18. Tinuy-an Falls
Dubbed the mini-Niagra Falls of Mindanao, the Tinuy-an Falls' wide stretch and strong flow definitely give it some resemblance. You can get near to it using a bamboo raft and then have fun swimming right at its foot. It's a majestic sight that you can't afford to miss in Bislig, Surigao Del Sur.
19. Hinatuan Enchanted River
Be mystified as you adore the beauty of the Hinatuan Enchanted River. Its glimmering clear water and great depth truly made it look enchanting and mysterious. To preserve its beauty, the local government restricts swimming in the main river but there are designated swimming areas.
Zamboanga
20. Pink Beach
Enjoy a sweet and charming swim on Pink Beach. This beach in Zamboanga is known because of the way it turns pink in the late afternoon. Prepare to wear your pink swim wears to blend in the shade of this pink beach.
These are just some of the wonderful tourist spots in Mindanao. Discover the grace and exquisiteness of its many islands, cities and towns. Don't hesitate in treating yourself to a memorable Mindanao tour.