Salagdoong Beach is one of the most popular beaches in Siquijor. This white-sand beach located in the town of Maria has a very wide area. Its beachfront is separated by a small rocky hill (hummock) which you can climb to enjoy a better view of the entire beach.
Exploring Salagdoong Beach
After visiting Cambugahay Falls, we headed here next. Upon arriving, we were very delighted to see its captivating view. Its water is so clear that we were able to see a school of fish from afar.  We were viewing them from the top of the hummock.
The hummock was recently improved/renovated by the local government. They've added a bridge, a slide and two diving platforms to it. I've checked the fairly recent pictures of this beach before we went here but haven't seen those amenities.
Diving Platform and Slide
I can't forget the chilling experience of trying to record a video on top of the hummock. I was eager to show what it looks like when looking down below the diving platform but I suddenly got a chill.
It's not that I'm afraid to fall and get wet because I can bear that. The idea of falling down the cliff with our newly bought DSLR camera gave me goosebumps. The reaction (*cough* violent) I'll get from my fellow wanderer would be unimaginable. :)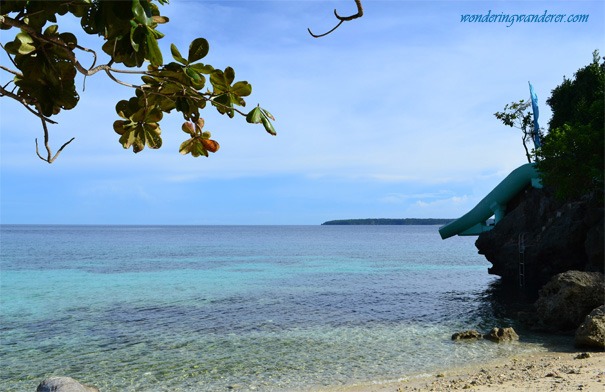 What I like about this beach is that it's not crowded and its entrance fee is very cheap. Perhaps it's because we went there in the autumn month which is a non-peak season. But compared to the other beaches that we visited here in the Philippines during a non-peak season? I can say that most of them are not as quiet and peaceful as this one.
Rates
If you want to spend the night there, the one and only hotel here is Hotel Agripino. The rooms here are more affordable compared to most in Siquijor.
Entrance Fee:
Adults: P15.00
Kids: P10.00
Hotel Agripino
Room Rates: P900 to P1,600.
Cottage P100.00
Nipa Cottage P300.00
Slide P50.00