Where to Eat in Baler? What's great about having a food trip in a town just beside the open sea is the fresh and rich variety of seafood. Since Baler is a province where farming and livestock are common forms of livelihood—meats and veggies here are also served fresh from the source. This is definitely a great place to escape from the big city's fast food and all kinds of processed food because you can enjoy eating healthy here at a competitive price.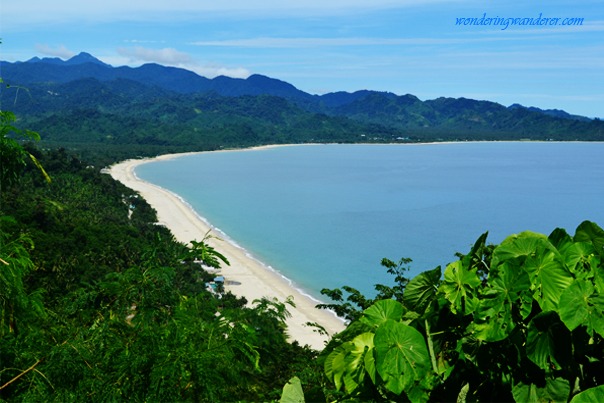 Yolly's Ihaw-Ihaw and Seafood
Address: Quezon St. corner Recto St. Brgy. Dos Baler, Aurora
Mobile: 0908 491 7633
https://www.facebook.com/yollysrestaurant/
Lobster! And lots of them! It was my first reaction when we reached this restaurant and I wasn't the only one. While we were checking out their menu, it's hard not to overhear other tourists buzzing about their displayed lobsters. After we sat down to eat, a woman made a very loud scream outside the restaurant and I thought that there was a car accident of some sort. Everyone got curious and looked outside until we saw a blue Ford Everest slowly moving backward with a woman in the front seat pointing out at the restaurant stands. She was shouting "lobster, lobster!" in a high pitch voice then we all laughed. She heard our laughter and realized that it's about her so she suddenly got a grip on herself. Her blushy wide smile was really noticeable when she entered the restaurant and people were smiling at her.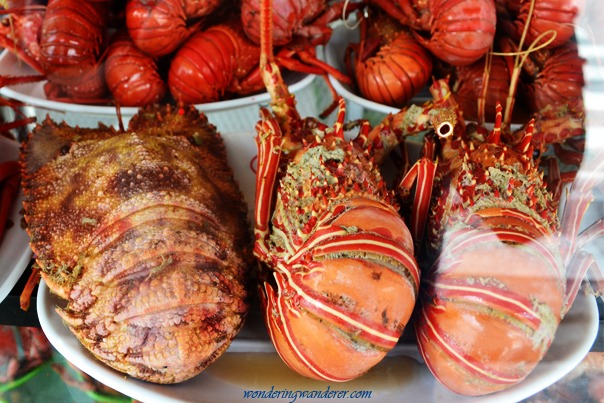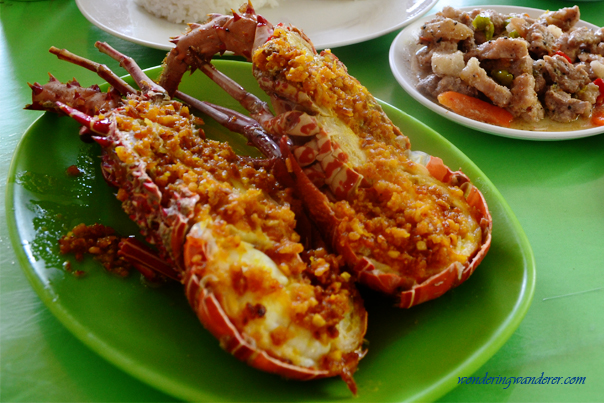 She has a very good reason to scream like that because this restaurant serves freshly caught lobsters at an affordable price. It was my first time to try a lobster because we found it too expensive when we looked for restaurants that offer these online. The lobster's price in Dampa, Macapagal is P1,800.00, Ogawa's Teppan Lobster Gozen is P2,300.00 while Ruby Jack's Steakhouse & Bar's Char-Grilled Live Palawan Lobster is a whopping P8,000.00!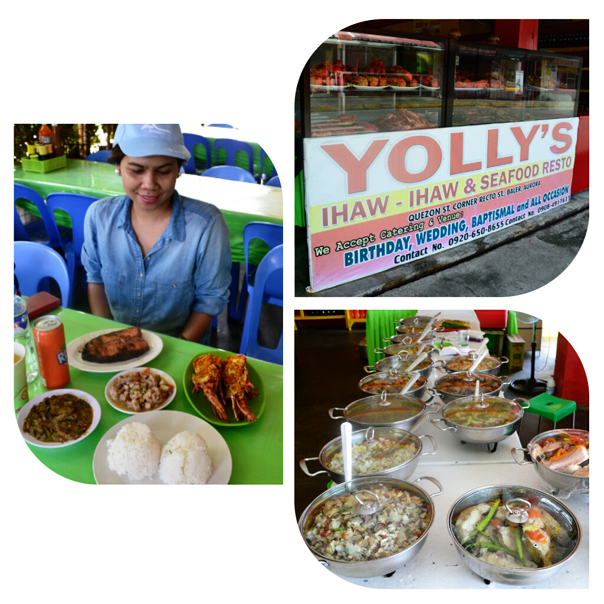 Food Quality
The buttered lobster that we bought here only costs P600.00 and is big and meaty enough for the two of us. I thought that it would only taste like an overgrown shrimp or something similar to a crab but it surely has a distinct taste. I had to savor every bite because the taste of its tender and juicy meat was so heavenly. Perhaps this is the reason why the restaurants in the big cities are pricing it so high. It depends on your taste but I would recommend getting the buttered option because it added a kick to its taste and made it more flavorful. My mindset was to give it a try for the sake of just finding out but its taste went beyond my expectation.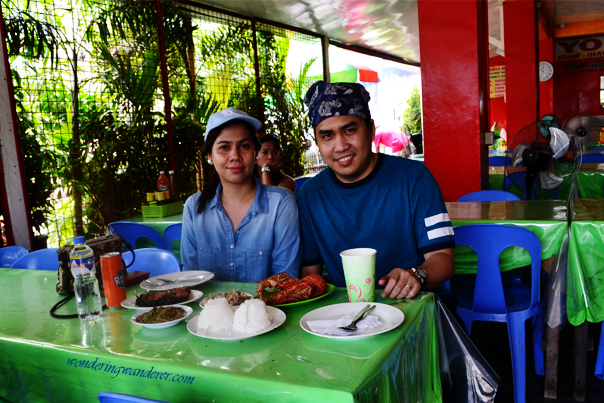 The next one that I tried is the grilled Blue Marlin. My eyes widened out of surprise at how delicious it was as well. It was cooked to the core and one of the best tasting I had. My wife and I continued to try the Bicol Express and Laing then we talked about how all of them are surprisingly tasty and high quality. The place may look modest but for me, the quality of their food would beat several of the fine dining restaurants that we tried in Manila. Our bill is just a little over P1,000.00 which is really cost-effective considering that there's a lobster in the menu. Our experience in this restaurant was so great that we were still talking about it even after our vacation to Baler.
Chef Gerry's Picnic Bay Branch



Address: Purok 4, Sabang Beach, Baler
Mobile: 0908 862 2944
https://chefgerryspicnicbay.weebly.com/
This restaurant is perfect if you have a big appetite but is short on budget. Its Eat-All-You-Can for P200.00 is what made it popular in Baler. You can experience the festive Filipino culture here because the menu is mainly Filipino dishes and the setup is like you're in a town feast. We picked its branch by the seaside instead of the original restaurant in the town center to take advantage of the ambiance.
There's no question about it being affordable but of course, you'll get what you paid for. Like in our first time at Yolly's Ihaw-Ihaw and Seafood Restaurant, we weren't expecting much about the quality and taste of the food. But this time, our expectation was clearly met. And I mean mediocre expectation. Overall, it went above average considering that it has a good view of the sea, it has most of my favorite dishes and the fact that the meal already includes an unlimited iced tea already.
Some buffet restaurants would charge you high for the sweet drinks because their buffet meal only includes service water. What's a sumptuous meal without a tasty drink? That idea is how other restaurants gain more for their cheap buffet meal. Considering how many food varieties this restaurant offer, we can't help pigging out to have a taste of every dish even if it's just one or two spoons only. The lechon, adobong pusit and calamari were my favorites.
In spite of the food's average taste, we still ended up eating a lot because our half-day tour in Baler made us very hungry. Having said that, I can say that we were able to make the most out of our P200.00 here.
Dialyn's Bakeshop

Address: Buton St., Sitio Labasin, Baler
Mobile: 0948 264 7358
This bakeshop that's uniquely Baler caught our attention because of its elegant setup and trees filled with lanterns. We confirmed that it doesn't have any branches yet but has a good potential to grow because of its delectable cakes and neat venue. We bought their Brazo de Mercedes and Chocolate cake roll slices which are P25.00 each then brought them in the resort. The cake's soft and fluffy texture was very pleasing to the tongue and gums. It's filling has the right amount of sweetness that deliciously explodes its flavor to your mouth. You can't rush munching this food because you'll want to savor every bite.
Compared to the generic well-known bakeshops in Manila, it felt that the owner of this bakeshop has been very generous in the ingredients of their cakes. I was looking at the cake at every bite and I haven't seen any small holes caused by yeast. The cake looked solid and well-refined despite its softness. I wish that I wasn't on a diet because we would have gone back there and bought an entire cake back home. We could have tried their other pastries as well. This bakery is something you can't afford to miss when you visit Baler.
Where Else to Eat in Baler
Baler Surfer Grill
Address: Baywalk Area, Sabang Beach, Baler, Aurora
Bayler View Restaurant
Address: Buton St., Brgy. Sabang, Baler, Aurora
Fermina's Snackhouse
Address: Zamora St. cor. Carrasco St., Brgy. 3 Baler, Aurora
Foods Pa
Address: Quezon St., Brgy. Suklayin, Baler, Aurora.
Kusina Luntian
Address: Sabang Beach, Baler, Aurora
Isla Virginia Restaurant
Address: Baywalk Area, Sabang Beach, Baler, Aurora
Maple Inn and Seafood Restaurant
Address: Labasin St, Baler, Aurora
Ram's Tapsilog
Address: Angara St., Corner Mabini St., Baler Aurora.
Shane's Eatery
Address: Brgy. 1, San Luis St., Baler, Aurora
Trencher's Kitchenette
Address: #40 Aurora Center, Quezon St., Baler, Aurora
Yellowfin Bar and Grill
Address: Sabang Beach, Baler, Aurora.
Please check out our Baler Transient Houses, Resorts, Hotels and Travel Guide post as well. I hope this blog post can help you decide where to eat in Baler.